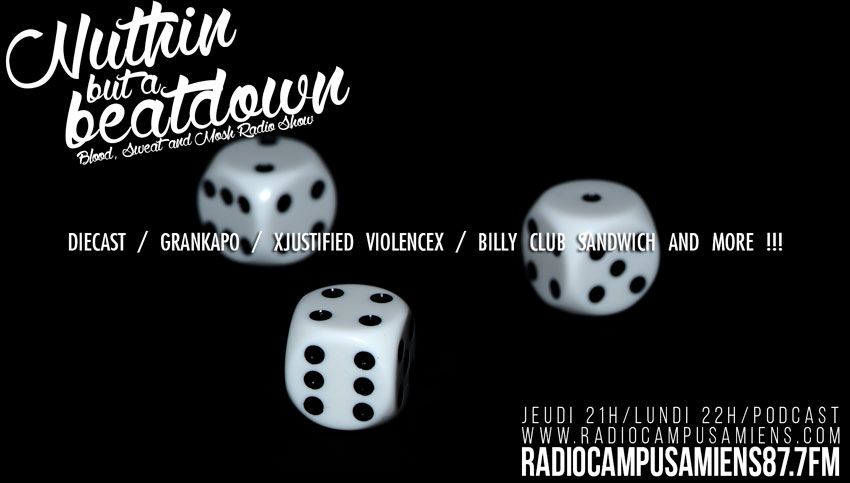 Les kids, le plus ludique des podcasts est diponible en ligne ! #5fichessec
Au programme:
The Setup – Post Mortem Blues
Constrict – Desolated
Wake Of Humanity – At Capacity
xJUSTIFIED VIOLENCEx – The Return
Adamantium – Filled With Shame
Diecast – Peacemaker
Cipher – Reaching Higher States
Nora – Murder One
Guns Up! – To An End
By The Grace Of God – Beneath The Blue
Lodges – Waiting Room
Between Earth & Sky – The Spirit Burial Ground
For The Glory – Some Kids Have No Face
Look My Way – White Flag
Grankapo – Left For Dead
Biohazard – Vengeance Is Mine
Agnostic Front – Today, Tomorrow, Forever
Agnostic Front – Bloodsucker
Billy Club Sandwich – Narco Cabron
Billy Club Sandwich – Chin Music
Deez Nuts – Hedonistic Wasteland
E-Town Concrete – Stranglehold
Woodwork – Emancipation
Streetsweeper – Back To Life
Primal Age – Counterfeiters Of Science
xDESTROY BABYLONx – Destroy Babylon
Hatebreed – Facing What Consumes You
Terror – Let Me Sink
Bonne écoute !