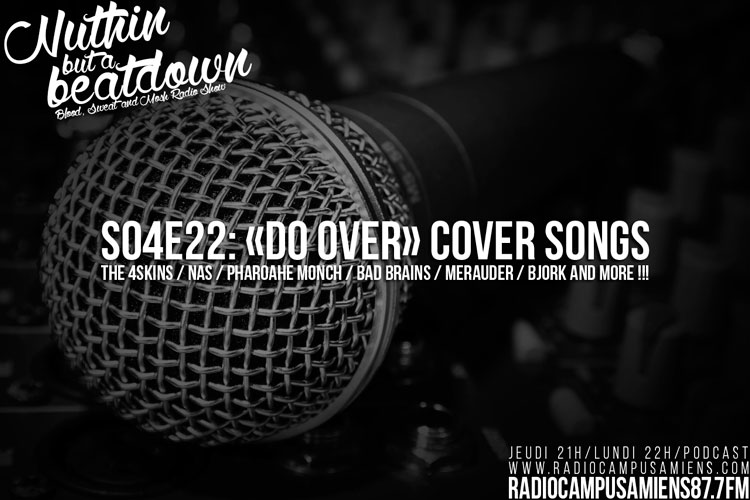 Les kids, le podcast de cet opus spécial reprises actualisé est en ligne ! Au menu cette fois-ci:
Incendiary – Sabotage (Beastie Boys)
Earth Crisis – Earth A.D. (The Misfits)
108 – Death Comes Ripping (The Misfits)
Snapcase – She (The Misfits)
Sick Of It All – All Hell Breaks Loose (The Misfits)
E-Town Concrete – The World Is Yours (Nas)
Throwdown – Baby Got Back (Sir Mix-A-Lot)
Furious Styles – A.C.A.B. (The 4Skins)
Raised Fist – Flame Still Burns (Youth Of Today)
NJ Bloodline – La Bamba (Los Lobos / Richie Valens)
Ignite – Pay To Cum (Bad Brains)
Vision Of Disorder – Soulcraft (Bad Brains)
Adamantium – Re-Ignition (Bad Brains)
Boy Sets Fire – I Against I (Bad Brains)
Hatebreed – Life Is Pain (Merauder)
Culture – Fed Up! (Judge)
Earth Crisis – Paint It Black (The Rolling Stones)
Rise Of The Northstar – Simon Says (Pharoahe Monch)
xELEGYx – Memento Mori (Culture)
Gallows – Orchestra Of Wolves (Black Flag)
H2O – Pride (Madball)
Caliban – Army Of Me (Bjork)
Primal Age – Dictation Of Beauty (Morning Again)
First Blood – Before Dishonor (Hatebreed)
Evergreen Terrace – Maniac (Flashdance/Michael Sembello)
Bonne écoute !