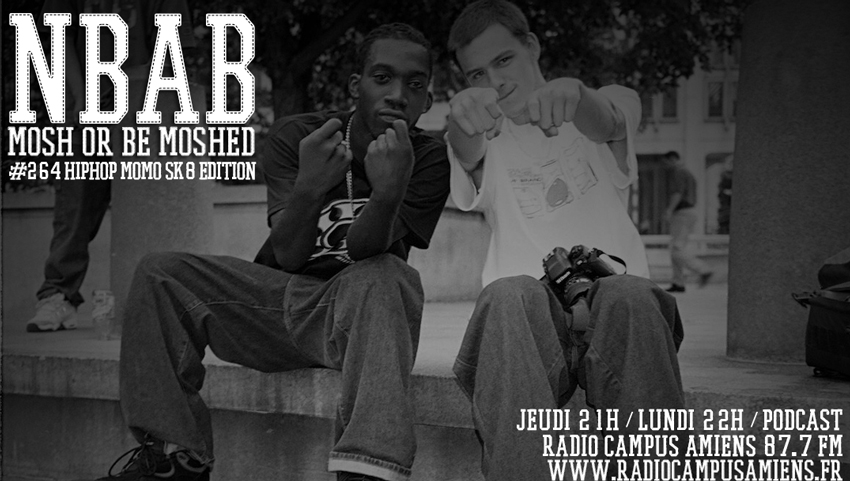 LA PLAYLIST DE LA SEMAINE:
SOL – THE BOXCAR
"15 Minutes Of Funk" (2008/Anticon)
CASUAL – LOSE IN THE END
"Fear Itself" (1993/Jive)
DEL THE FUNKEE HOMOSAPIEN – AHONE TWO, AHONE TWO
"I Wish My Brother George Was Here" (1991/Elektra)
THE PHARCYDE – Y?
"Labcabincalifornia" (1995/Capitol Records)
THE ROOTS – PANIC!!!!
"Illadelph Halflife" (1996/Geffen)
XZIBIT – THE FOUNDATION
"At The Speed Of Life" (1996/Loud Records)
SOULS OF MISCHIEF – SOULS OF MISCHIEF
"Hiero Oldies vol.1" (1996/Hiero Imperium)
MOBB DEEP – EXTORTION
"Hell On Earth" (1996/Loud Records)
METHOD MAN – RELEASE YO DELF
"Tical" (1994/Def Jam)
ROYAL FLUSH – WORLDWIDE
"Ghetto Millionaire" (1997/Blunt Recordings)
A TRIBE CALLED QUEST – MR MUHAMMAD
"People's Instinctive Travels And The Paths Of Rhythm" (1990/Jive)
SLICK RICK – 'CUZ IT'S WRONG
"Behind Bars" (1994/Def Jam)
KOOL KEITH – KING OF NYC
Dan The Automator's "A Much Better Tomorrow" (2000/75Ark)
FU-SCHNICKENS – LA SCHMOOVE
"F.U. Don't Take It Personal" (1992/Jive)
GANG STARR – ABOVE THE CLOUDS
"Moment Of Truth" (1998/Noo Trybe Records)
BEASTIE BOYS – THE MOVE
"Hello Nasty" (1998/Capitol Records)
DEAD CAN DANCE – SALTARELLO
"Aion" (1990/4AD)